To know the correct head size for a well-fitting hat, you will have to measure your head size. You do this by means of a measuring tape that you pull around your forehead.
HOW DO I MEASURE MY HEAD SIZE?
Do you want to measure the correct head size? Then pull a measuring tape around your head about 2 cm above the eyebrows. Measure the number of cm and then you will know exactly whether this Poederbaas hat fits on your head or that of your child.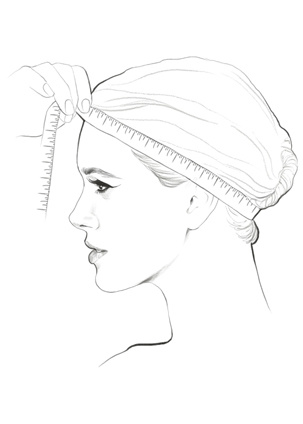 What if my head size is larger or smaller than the size described with the product?
No problem! At Poederbaas we are good at crocheting custom made hats that will fit perfectly on your head. The nice thing about this is that you can also choose your own colors and whether fleece should be added to the inside or not.
Exchange?
If the item is too big or too small, you can always exchange it for another variant. You can find out how this works here.
What type of hats can I choose from?
Colorful hats: These are mostly crocheted hats with a pompom. These hats have fleece on the inside which provides warmth and wearing comfort.
Urban & Essential hats: These are crocheted and knitted hats in solid and neutral colors. The crocheted hats have fleece on the inside.
Park Series: These are the knitted hats with super fit and are available in long and short version.