Good gloves and nice ski goggles are of course indispensable during your skiing holiday. We've got you covered in both, with our freeride gloves, freeride mitts and freeride goggles. We have the latter in two options: Blue for sunny weather and Red for cloudy weather. The glasses have a super cool Powder Boss band for around your helmet.

The Poederbaas Freeride goggle is the perfect snow goggle for your winter sports holiday. It fits seamlessly with your winter sports helmet and completes your winter sports outfit.

Features
100% UV Cut; The Poederbaas goggle protects you 100% against UV radiation
Red lens technology so that your eyes are not visible to the outside world
Advanced double-layer foam that feels comfortable and provides a breathable effect on the inside. This keeps your skin and eyes dry while skiing/snowboarding.
Double lens of which the outer lens in PC and the minnel lens has the anti-fog system. This ensures that this goggle cannot fog up from the inside.
The goggle can be worn with glasses on the inside.
The shape of the frame of this goggle is made in such a way that you have no restrictions in the corners of your eyes.
Anatomically shaped; This Freeride goggle from Poederbaas fits seamlessly with any helmet.
It also comes with a microfiber goggle cover, which keeps the lens nice and clean and protected against scratches. To clean the lens, use a clean microfiber cloth or towel to avoid scratching the lens. Do you want to disinfect the entire Powder Boss goggle? Then use warm water with soap. Then let the goggle dry itself. Do not store the goggle wet and do not let it dry near a heater or other heat source! We recommend that you replace your goggle every 5 years.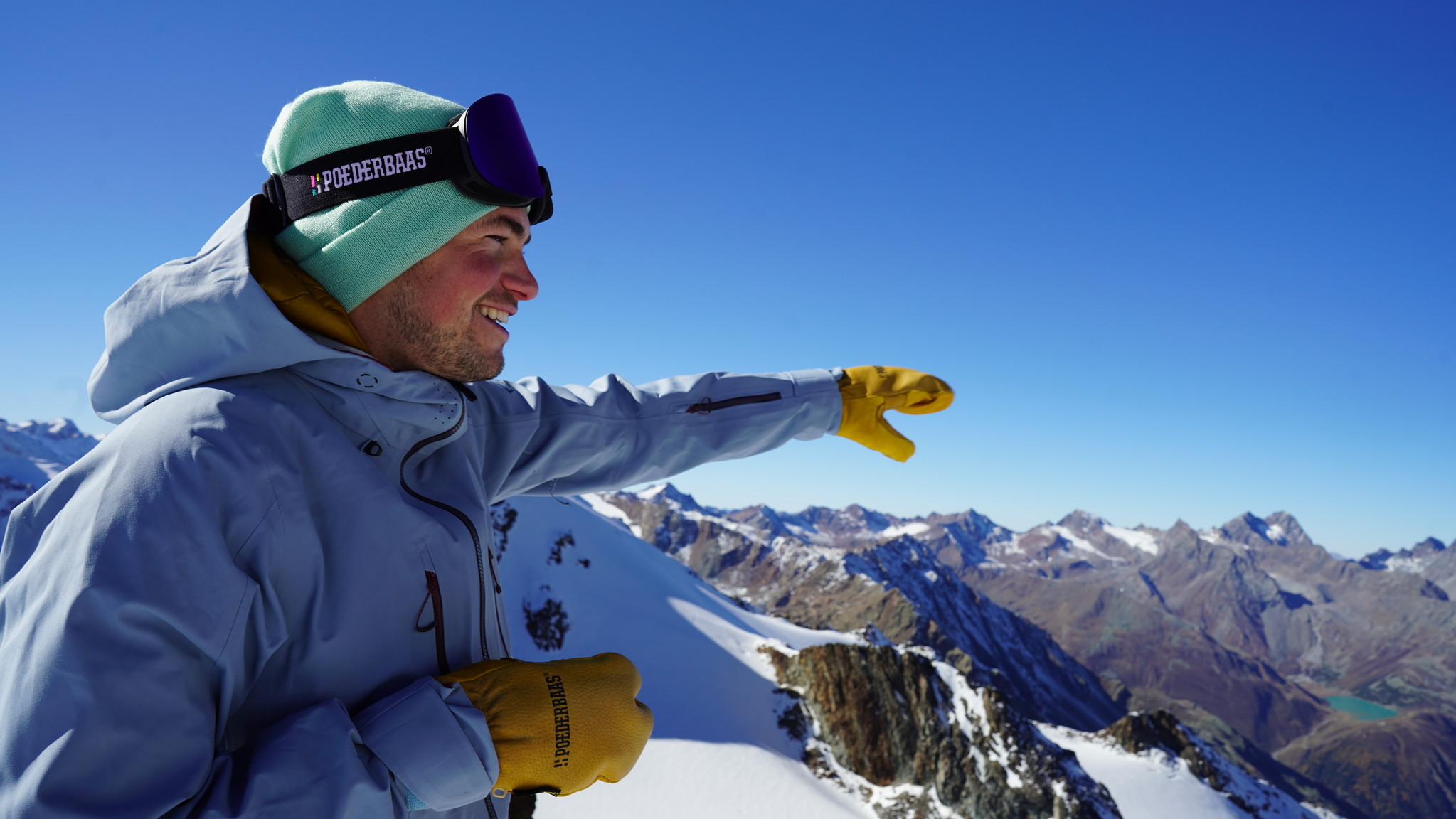 The comfortable freeride gloves from Poederbaas that are made of durable leather materials. They keep you warm at all times, even during the extremely cold winter days. The gloves have extra leather patches on the inside of your palms which provides extra comfort and protection while wearing. All our winter sports gloves come with a special waterproof wax that you can apply before wearing. This ensures that the gloves fit even more smoothly on your hands and that they last as long as possible.
Features
Made from high quality pigskin
Equipped with thermal inner lining
Reinforced with leather patches on palm, thumb and fingers
100% polyester knit wrist to retain warmth
Sewn with extra strong Draylon® thread
These gloves have a very long life
Nikwax waterproofing wax gift
Available in sizes S, M, L, XL
Give your gloves the beautiful leather vintage look by greasing them with the included wax. This gives them a beautiful leather vintage look and they will remain beautiful for years to come.

How?
Set your oven to 50 degrees Celsius.
Place the gloves in the oven for 5 minutes.
Take the gloves out, put them on and use the wax that comes with them to supposedly wash your hands with it. So you rub all the wax into it. Do not forget to lubricate the seams extra well.
Place the gloves in the oven for another 5 minutes.
Are the gloves still a bit dull? Then you can repeat steps 3 and 4 one or two more times. As soon as they start to shiny, take them out of the oven and let them cool.
Time to enjoy your winter sports holiday with these cool winter sports gloves. Enjoy!
It is therefore wise to treat your leather gloves with Nikwax once a year. Regular maintenance of leather with Nikwax will help extend its life. Nikwax Waterproofing Wax for Leather is a high-quality waterproofing cream specifically intended for leather. You will receive Nikwax with your gloves as standard with us, so that you can immediately get started with the first wax treatment.
Please note: once the Freeride winter sports gloves have been in the oven after purchase, returns are no longer possible. Poederbaas is not liable for any consequences of preparing the gloves in the oven and is therefore entirely at your own risk.
Time to enjoy your winter sports holiday with your cool goggles and winter sports gloves. Enjoy!